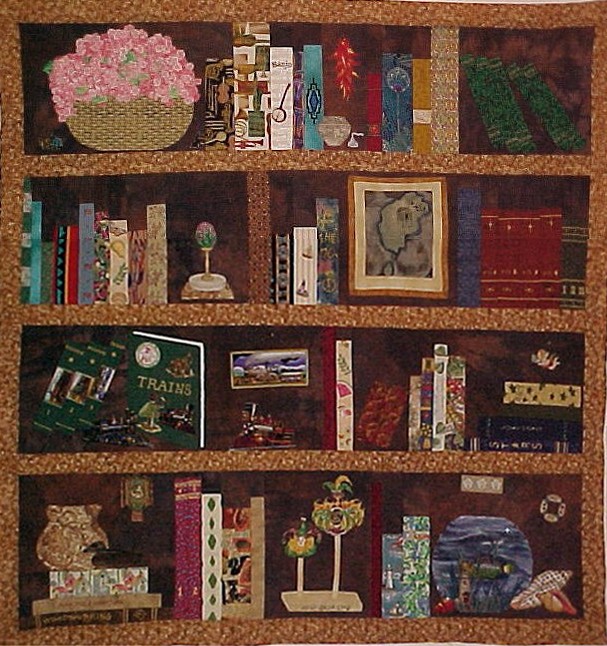 This is picture of the top right after I got it put together.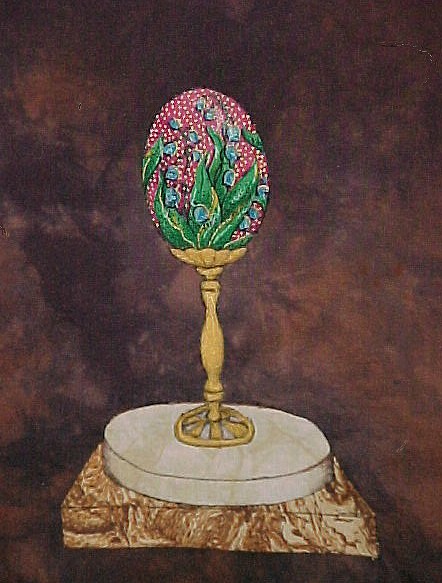 I fussy cut this egg from easter fabric that had piles of fabrege eggs. I drew the stand on muslin and colored it with a gold fabric pen, then shaded with a brown fabric pen.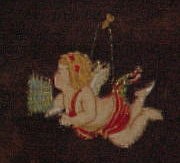 This little guy was from some Christmas fabric. I used gold thread for the 'wire' and colored the nail with gold fabric pen.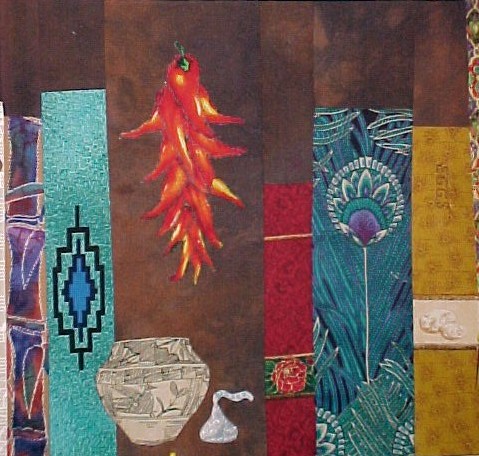 The peppers were fussy cut, fused to backgound, then zigzaged with monofilament. The Hershey Kiss was from some Christmas fabric and the littl pot was some Native American print.
After I finished putting the top together, the books on this shelf appeared to be floating. I added the keys to help anchor them. I traced the keys on gold & gray marbel fabrics, then added details with fabrics pens. The remote fob is just black fabric with details added with white fabric pen.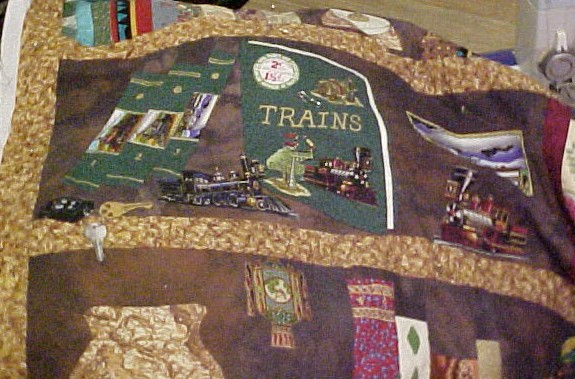 Just another shot of the keys.
I fussy cut everything for this one.then I fused and zigzagged with monofil. I added clear vinyl over the bowl just for fun. If you look at the pepper picture, you'll see a peacock feather fabric. That is what I used for the plants in the fishbowl.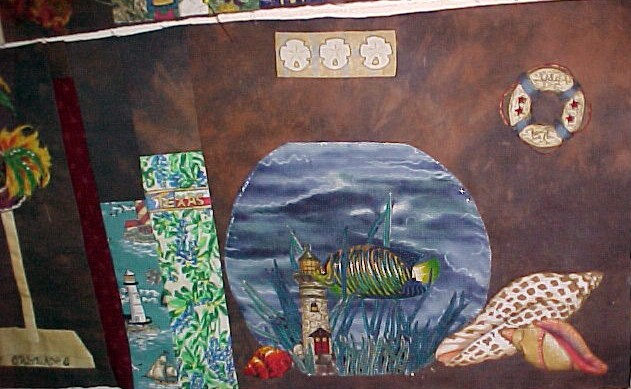 I had some nautical and sea shell fabrics, so decided to make the whole block have a nautical theme. The shell in the lower right was brown/white/blue and was quite dull. I used red and yellow fabric pens to brighten it up a little.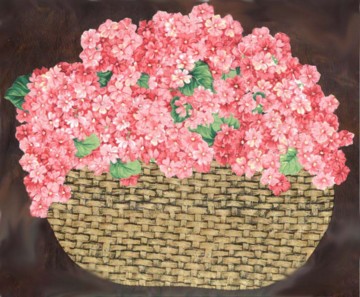 The basket was simply cut from a basket weave print and appliqued. The flowers came from some dress fabric that had clumps of flowers. I cut the clumps and fused them, then did a loose outline around edges with monofil. I may fuse some single flowers to pink fabric and attach them only in the centers so they'll be 3D.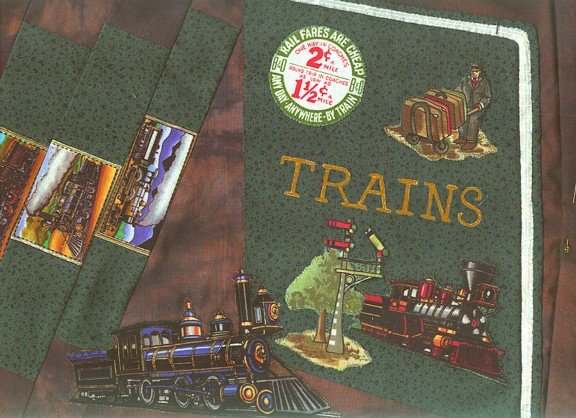 The owner of the quilt has a train collection, so I decided to make a train block for him. I hid some little 'toys' near the basket as well. A friend from #Quiltchat sent the train fabric to me. Thanks Frazzy!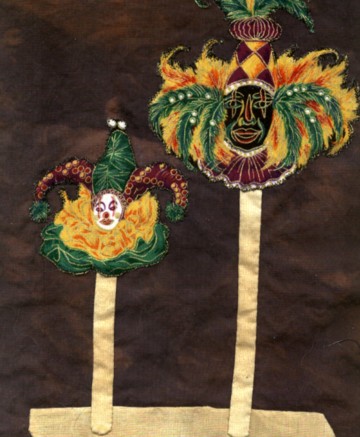 These masks came from some wonderful Mardi Gras fabric. The masks are fused & stitched, but the stand is hand appliqued. It isn't as crooked as it looks..it just wasn't hanging straight on wall at the time. I also added "New Orleans" to base of the stand.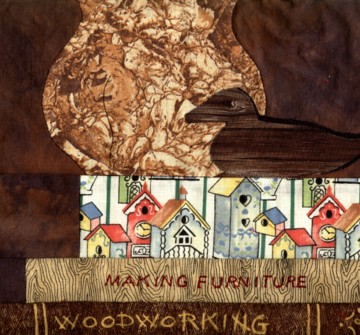 The owner also makes furniture and does woodworking. I used some machine embroidery for words and some gold fabric pen.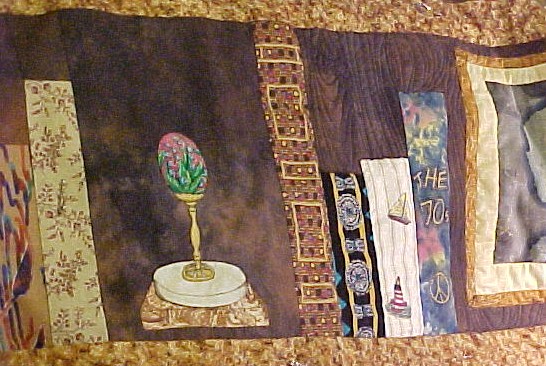 The final two pictures show the woodgrain machine quilting. It was fun because squiggles and oopsies just added to the wood look.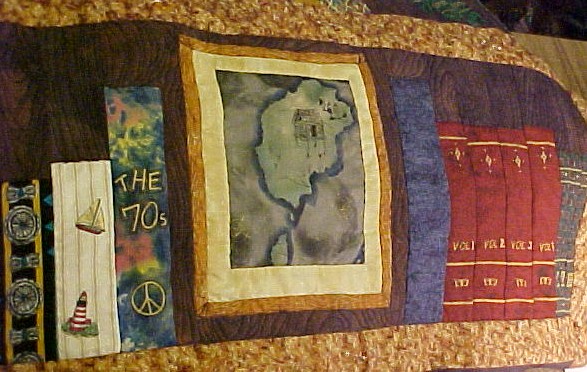 The map was from some Christopher Columbus fabric.
1 2 3 4 5 6 7 8 9
Dulci's Home Page