Welcome to "The Joneses" Home Page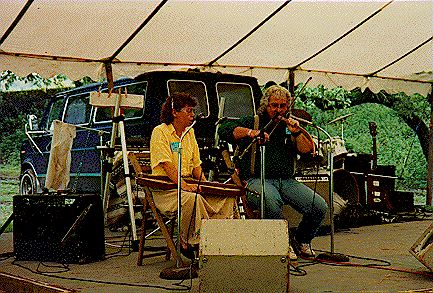 Texas Arts and Education Arts & Crafts Fair, Kerrville, TX 1993
Stephen and Melissa Jones are
"THE JONESES"

Although they have been married for over 30 years they have only been performing folk music since 1991.
Their love of Celtic/American/World folk music came from seeing a demonstration of the Appalachian Mountain Dulcimer. After purchasing a dulcimer for themselves they had difficulty locating printed music for the instrument in West Texas. While researching ballads, they became as interested in the history of the music as they were in the songs and have since included the history in their programs.
They have performed at state and local festivals, museums, schools, and coffee shops. Their informal relaxed attitude on stage encourages the audience to ask questions and become part of the performance.
Children and adults alike enjoy seeing the demonstration of many unusual folk instruments such as washboard, salad bowl, toy accordian, mouth bow, jaw harps, to name but a few, and songs that are fun, heartwarming and often heart breaking.

ContactStephen or Melissa Jones

Free counters provided by Andale.

Visit Southern Festivals